April 2016
Dear Friend,
I am pleased to present my electronic newsletter. These e-newsletters enable me to provide information about issues, events and activities in Harrisburg and around the 21st Senatorial District to you in a timely manner while saving postage costs.
If you find this e-newsletter useful, I invite you to visit my website www.senatorscotthutchinson.com for more information about your state government. If you do not wish to receive these e-newsletters, please click the "unsubscribe" button at the bottom of the page.
Sincerely,
Scott
---
Local Students Serve as "Senators for a Day"
More than 90 students and advisors from 8 secondary schools across the 21st Senatorial District had the opportunity to get a first-hand look at legislative and state government operations during a student government seminar that I hosted on March 10 at Clarion University.
During the morning, the students divided into Senate committees to discuss bills, take positions on legislation and draft laws. The students came together after lunch to convene as the full Senate to consider the bills crafted by the committees.
Students had an opportunity to see how state government works and the way that legislators work on public policy issues. The attendees interacted with students from other high schools, elected officials and people in government relations while developing and voting on legislation as they served as members of the General Assembly.
2015-16 Budget Finalized, Fiscal Code Vetoed
As you are probably aware, Pennsylvania finally has a complete 2015-16 budget following the Governor's decision to allow it to become law without his signature or veto.
House Bill 1801, a $30.031 billion spending plan, restores much of the $6 billion in funding for essential programs and services that the Governor line-item vetoed from the budget enacted last December and includes the highest education spending in state history without the need for tax increases.
HB 1801 reverses the Governor's line-item vetoes of funding for community colleges and the State System of Higher Education, while providing full funding for Pennsylvania's state related universities: Penn State, Pitt, Temple and Lincoln. The bill provides funds to preserve programs such as agricultural extension and research and 4-H that were defunded by the Governor's line-item vetoes.
However, I am extremely disappointed that the Governor vetoed the accompanying Fiscal Code (House Bill 1327), which among other important provisions would provide essential regulatory protection for conventional gas and oil wells. Specifically, a section of the Fiscal Code would invalidate regulations on conventional oil and gas wells that were published after Nov. 30, 2013.
Congratulations to Eagle Scout Jeremiah Jordan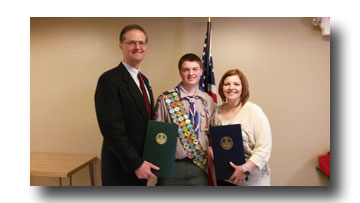 Congratulations to Jeremiah Jordan, from Millcreek Township, who recently achieved the rank of Eagle Scout. Jeremiah is a member of Troop 51 and for his Eagle Scout project he restored a pond in Allegheny National Forest. Outstanding job Jeremiah! Keep up the good work!
New Electronics Waste Recycling Website Launched
A new website, www.eWastePA.org, was recently launched to provide information on how to properly manage electronic waste such as old televisions and computer monitors, commonly referred to as e-waste.
The Covered Device Recycling Act (Act 108), enacted in 2010, prohibits the acceptance of 'covered devices' such as televisions, computers, computer monitors and all peripherals, at any Pennsylvania solid waste disposal facility. This prohibits residents from putting them out at the curb for pickup by their waste hauler.
The website answers basic questions consumers have about electronics recycling, such as information regarding Act 108 and locations of electronic recycling drop-off centers.
The Joint Legislative Air and Water Pollution Control and Conservation Committee, which I chair, recently held a public hearing to review Act 108 of 2010, the Covered Device Recycling Act.
The committee heard from Representative Chris Ross, the prime sponsor of Act 108. Representative Ross is planning to introduce legislation that would address shortcomings in the current law and promote electronics recycling in Pennsylvania.
Click here for video of the complete public hearing.
Tax Time Offers Opportunity to Help Military Families
With tax time at hand, Pennsylvanians can help military families in times of crisis by donating all or some of their state income tax refund to the Military Family Relief Assistance Program (MFRAP).
MFRAP provides grants of up to $3,500 to eligible Pennsylvania service members and their family members who have a direct and immediate financial need as a result of circumstances beyond their control.
In addition to contributing through state tax returns, donations to MFRAP can also be made online at www.donate.dmva.pa.gov or by mail to DMVA Office of Veterans Affairs, Bldg. 0-47, Fort Indiantown Gap, Annville, PA 17003-5002.
Donations are tax deductible to the extent authorized by federal law. To learn more about MFRAP, visit www.mfrap.pa.gov.
Applications Now Accepted For Farm Tax Credits
Farmers can now apply for 2015-16 Resource Enhancement and Protection (REAP) program tax credits to install best management practices or make equipment purchases that reduce erosion and sedimentation.
Tax credits of up to $150,000 per agricultural operation are based on 50 to 75 percent of the project's cost. The deadline to submit applications is April 22, 2016.
Applications for the 2015-2016 REAP program area are available at www.agriculture.pa.gov by clicking "protect," then "State Conservation Commission," then "REAP," or by contacting Joel Semke at (717) 705-4032 or jsemke@pa.gov.
Since the program began in 2007, REAP has awarded tax credits to 3,900 projects totaling more than $50 million. Public and private enterprises investments in REAP have contributed to the conservation projects, worth more than $128 million. From 2010 to 2014, REAP has helped reduce an estimated runoff of nearly 1.4 million pounds of nitrogen, 84,000 pounds of phosphorus and 9,000 tons of sediment.
State Police and American Legion Seek Youth Camp Applicants
The Pennsylvania State Police and Pennsylvania American Legion are seeking applicants for "State Police Youth Week," a week-long leadership camp held at York College designed for teenagers, ages of 15-17, who are interested in a career in law enforcement or the military.
During the camp, cadets take part in team-building exercises, physical fitness training, classroom activities involving police and military careers, and a marksmanship course. Cadets will also visit the Pennsylvania State Police Academy in Hershey and Fort Indiantown Gap National Guard Training Center in Lebanon County.
For application information, visit the Pennsylvania American Legion website at www.pa-legion.com and click on the "Programs" link or call the Pennsylvania American Legion Headquarters at (717) 730-9100.
PENNDOT Offering Free Motorcycle Training Classes
PENNDOT is again offering free motorcycle training programs – for beginners through seasoned riders – at 76 locations across the state.
For more information or to enroll in a course, visit www.pamsp.com or call toll-free (800) 845-9533. Potential riders who want a convenient way to study for their knowledge test can download the PA Motorcycle Practice Test app by visiting www.pa.gov and searching the mobile apps for the Pennsylvania Motorcycle License Practice Test.
Riders are also encouraged to visit www.LiveFreeRideAlive.com, an interactive website designed specifically for motorcyclists. The website challenges riders to take personal responsibility for their own safety and offers an open forum for riders to share experiences.
---
If you do not wish to receive this email, click here to unsubscribe.
Privacy Policy
2016 © Senate of Pennsylvania
senatorscotthutchinson.com