Dear Friend,
I am pleased to send you my Session Wrap Up e-newsletter. This e-newsletter features events and legislative activities from the Session Week of September 26, 2016.
If you find this e-newsletter useful, I invite you to visit my website www.senatorscotthutchinson.com for more information about your state government. If you do not wish to receive these e-newsletters, please click the "unsubscribe" button at the bottom of the page. If you would like to contact my office, please go to my web page and click the "contact" button. Please do not "reply" directly to this e-mail.
Sincerely,
Scott
---
Senate Approves Legislation to Combat Opioid Addiction Crisis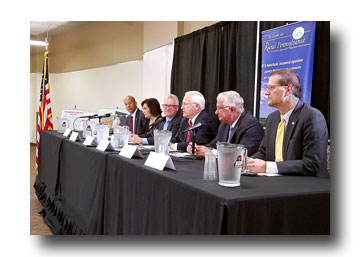 I was a panelist at a September 20 public hearing of the Center for Rural Pennsylvania at Indiana University of Pennsylvania on the impact of the heroin and opioid epidemic on Pennsylvania's rural counties.
The Senate on Wednesday unanimously approved and sent to the House of Representatives three measures addressing the state's growing opioid addiction crisis.
The heroin and opioid crisis has wreaked havoc across Pennsylvania, from the streets of our big cities to our most rural areas. Addiction to heroin and opioids has destroyed lives and devastated families at an unbelievable and unacceptable rate in Pennsylvania. The Legislature is committed to addressing this crisis with the bills we passed today as the next steps in that process.
Senate Bill 1212 would establish the School Aged Children Opioid Awareness Education Program. The Departments of Drug and Alcohol Programs, Health, and Education will work together to design a request for proposals for organizations that can provide opioid awareness education programs to be delivered in schools.
Senate Bill 1367 limits the amount of opioids that children may be prescribed, with reasonable exceptions for cases involving chronic pain, cancer treatment or for palliative care or hospice care. It also requires a health care professional to obtain written consent from a minor's parent or legal guardian to prescribe a medical treatment containing opioids, and provide information on the risks of addiction and dangers of overdose associated with the medication.
Senate Bill 1368 implements the Safe Opioid Prescribing Curriculum in all of Pennsylvania's medical schools. The plan calls for a focus in four key areas including pain management; multimodal treatments for chronic pain that minimize the use of opioids, or when opioids are indicated, to prescribe them in a way that is safe and that follows guideline-based care; focusing on patients who have been identified as at-risk for developing problems with prescription opioids; and teaching medical students how to manage substance abuse disorders as a chronic disease.
The bills now go to the House of Representatives for consideration.
In June, the Senate approved Senate Bill 1202, a measure that requires licensed medication dispensers and prescribers to receive two hours of continuing education in pain management or in the prescribing practices of opioids.
The Senate also approved a Drug and Alcohol Recovery High School Pilot Program to provide instruction meeting State academic standards for students in grades 9 through 12 who are in recovery from drug or alcohol abuse or addiction. The measure was included as part of the School Code passed as part of the state budget package.
Listen to my comments on Pennsylvania's efforts to address the heroin and opioids crisis.
Special License Plate for Military Members Sent to Governor
I am pleased to report that the Senate gave final approval on Monday to a bill that recognizes and honors Pennsylvania's military personnel and sent the measure to the Governor for enactment into law.
Senate Bill 1155 establishes a special vehicle license plate for members of the United States Armed Forces adding special recognition for current members of the military, reserves, and Pennsylvania National Guard. This would be in addition to the currently available license plates with special recognition for World War II veterans, Purple Heart recipients and Operation Iraqi Freedom veterans.
Two additional bills received final legislative approval this week and were sent to the Governor.
House Bill 380 reduces the mandatory separation period that is required prior to entry of a no-fault divorce from two years to one year.
House Bill 665 makes technical changes to Title 20 (Decedents, Estates and Fiduciaries) concerning powers of attorney.
Senate Approves Cybersecurity Bill
With reports of hacking appearing in the news on an almost daily basis, the Senate acted on Wednesday to ensure citizens will be expeditiously notified if their information in state databases is compromised.
Senate Bill 1048, which updates Pennsylvania's Breach of Personal Information Notification Act, now goes to the House of Representatives for consideration. Specifically, the measure sets the following:
Requires a state agency, county, school district or municipality to notify the subject of a breach of security within seven business days following the discovery of a breach of security.
Requires a state agency to notify the state Attorney General and the Office of Administration within three business days following the discovery of a breach of security.
Requires a county, school district or municipality to notify the respective district attorney's office within three business days following the discovery of a breach of security.
Senate Bill 1048 now goes to the House of Representatives for consideration. Eight additional bills were approved by the Senate this week and sent to the House.
Senate Bill 340 amends the Local Government Unit Debt Act to provide adequate regulatory oversight and enforcement.
Senate Bill 341 amends the Municipality Authorities Act and the Public Official and Employee Ethics Act to coordinate the conflict of interest provisions as they relate to municipal authorities.
Senate Bill 344 requires 100 percent security from a contractor prior to the awarding of a contract for the construction, reconstruction, alteration or repair of any public building or other public work or public improvement where the contract exceeds $10,000.
Senate Bill 869 amends Titles 4 (Amusements), 18 (Crimes and Offenses), 30 (Fish), 42 (Judiciary and Judicial Procedure) and 75 (Vehicles) of the Pennsylvania Consolidated Statutes to address the seizure and forfeiture of property that is related to criminal offenses.
Senate Bill 1086 provides for the display of registration plates and for surrender of registration plates and cards upon suspension or revocation and providing for suspension of registration upon unpaid tolls and, in fees, further providing for reinstatement of operating privilege or vehicle registration.
Senate Bill 1341 establishes a performance-based budget component to enhance and improve budget development and decision making associated with the annual budget process.
Senate Bill 1352 provides a rate increase for the river pilots who navigate along the Delaware River and its navigable tributaries.
Senate Bill 1353 permits the Navigation Commission for the Delaware River and its Navigable Tributaries to increase fees for the issuance of original and renewed pilots' licenses.
---
If you do not wish to receive this email, click here to unsubscribe.
Privacy Policy
2016 © Senate of Pennsylvania
senatorscotthutchinson.com