January 2017
Dear Friend,
I am pleased to present my electronic newsletter. These e-newsletters enable me to provide information about issues, events and activities in Harrisburg and around the 21st Senatorial District to you in a timely manner while saving postage costs.
If you find this e-newsletter useful, I invite you to visit my website www.senatorscotthutchinson.com for more information about your state government. If you do not wish to receive these e-newsletters, please click the "unsubscribe" button at the bottom of the page.
Sincerely,
Scott
---
Senate Begins 2017-18 Legislative Session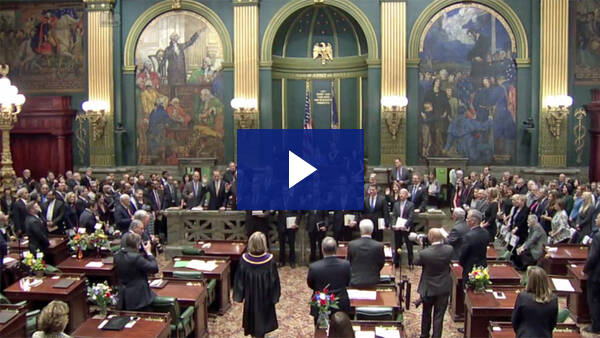 I was sworn into office on January 3 during a ceremony in the Senate Chamber of the State Capitol to begin my second term representing the 21 st Senatorial District.
I am humbled and honored to again serve the people of the 21st District. Now that the festivities are done, it is time for the Legislature to get ready to roll up our sleeves and get to work for the people of Pennsylvania.
Senate President Pro Tempore Joe Scarnati recently named me to serve as Chairman of the Senate Finance Committee for the upcoming 2017-18 Legislative Session.
Economic development and job growth are my legislative priorities as Finance Chairman. The state tax code and the mix of revenues which fund state government are the main purviews of the Finance Committee. As such, comparisons of the types, provisions, and mixes of taxes with other locations are key components of job competitiveness and business investment.
I am very much interested in financial issues based on my background and I will work to continue to improve the jobs climate in Pennsylvania. We need to look for ways to make Pennsylvania more competitive in the national and international marketplace. We must find ways to promote business opportunities that lead to job creation.
I was also appointed to serve as a member of the Environmental Resources & Energy, Health & Human Services, Local Government, and Veterans Affairs & Emergency Preparedness committees for the current session.
A Piece of Home Makes Swearing In Day Special
While many of my colleagues had simple floral arrangements on their desks for swearing in day, I had this wonderful display depicting an oil well from back home that was created by my wife Mary Beth.
This was a very special gift, one that reminded me that when I sit at this desk in the Senate Chamber, I must never forget the people, the heritage and all of the attributes that make the 21st Senatorial District so special.
Recognizing a Local Farm Show Scholarship Winner
I was pleased to present a Senatorial Certificate of Commendation to Emily Scott of Tionesta recognizing her as the recipient of a 2017 Pennsylvania Farm Show Scholarship. Emily is a sophomore at University of Pittsburgh at Bradford, studying Psychology. She is a former Vice President of the Wild Hogs 4-H Club and President of the Forest County Teen Council.
Disabled Veterans Sought for "No Barriers" Program
We need your help to find a veteran to nominate for the No Barriers Program. This program sponsors expeditions that mentally and physically challenges rural veterans on outdoor expeditions through mountaineering, rafting and rock climbing. Fifty veterans will participate in the 2017 program, at no cost to them. Veterans must have VA disability ratings to qualify.
The program was co-founded by Erik Weihenmayer, an internationally renowned mountain climber, and the only blind person in history to reach the summit of Mount Everest. More information on the program is available at www.nobarriersusa.org.
For consideration, veterans with VA disability ratings should submit a letter summarizing their military background, length of service, and why they wish to attend the No Barriers expedition. These letters may be sent electronically to codonnell@central.coop or by mailed to Chris O'Donnell, Central Electric Cooperative, 716 Route 368, P.O. Box 329, Parker, PA 16049-0329.
PENNDOT Stops Issuing Registration Stickers
The beginning of 2017 marked the end of PENNDOT's license plate registration stickers. Act 89 of 2013 provided for the elimination of vehicle registration stickers, a move that will realize a cost savings to taxpayers of $1.1 million per year. An additional $2 million will be saved in mailing costs.
Motorists are still required to maintain current vehicle registration, and must present a registration card to law enforcement when asked. A valid registration card is also still required when having a safety and/or emissions inspection completed.
Law enforcement agencies have electronic access to PENNDOT's database from their patrol vehicles, which allows them to verify if a vehicle registration is valid. In addition, many use license plate reader technology to efficiently validate registrations.
Dog Licenses Now Available at County Treasurers' Offices
Pennsylvanians can now purchase 2017 dog licenses from their county treasurers. State law requires all dogs three months and older to be licensed by January 1 of each year.
An annual dog license is $8.50, or $6.50 if the animal is spayed or neutered. Lifetime licenses are available for dogs that have permanent identification like a microchip or tattoo. Older adults and people with disabilities may be eligible for discounts.
The dog license application is simple and only requests owner contact information and details about the dog being licensed, like name, age, breed and color.
For more information, including a list of county treasurers, visit www.licenseyourdogPA.com or call the Bureau of Dog Law Enforcement Office at (717) 787-3062.
Bridge Builders Community Foundations Taking Scholarships Applications
Bridge Builders Community Foundations is now accepting applications from students in Venango, Forest or Clarion counties for scholarships to be awarded later this year. Applications will be accepted until April 3. To apply or for more information, visit the Bridge Builders Community Foundations' website at
http://bbcf.org/apply-for-scholarships/.
PHMC Accepting Keystone Historic Preservation Grant Applications
The Pennsylvania Historical and Museum Commission (PHMC) is now accepting applications for Keystone Historic Preservation Grants.
A total of $1.5 million will be available for grants for projects that identify, preserve, promote and protect historic and archaeological resources in Pennsylvania. Two types of grants – project and construction – are available for historic resources in Pennsylvania listed, or eligible for listing, in the National Register of Historic Places. Applicants may apply for only one type of grant.
For grant program guidelines and eGrant application instructions, visit PHMC online at www.phmc.pa.gov and click on "Grants and Funding" under the PRESERVATION tab on the top navigation bar. The application deadline is March 1, 2017. For more information, contact Karen Arnold by email at kaarnold@pa.gov or telephone at (717) 783-9927.
---
If you do not wish to receive this email, click here to unsubscribe.
Privacy Policy
2017 © Senate of Pennsylvania
senatorscotthutchinson.com